Open the BarnTalk Gateway box and find the included Installation Card.
Step 1: Scan the QR Code on the installation card to register your Gateway or fill out the registration here https://subscription.barntools.com/. Fill in your Name, Phone, and Email. You will receive a text message with a link to download the BarnTalk mobile app to your smart phone.
Step 2: Download the app, log in, and follow the prompts to install your gateway.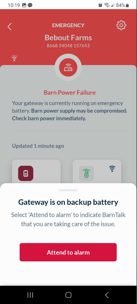 Tip: If you've previously downloaded the demo, touch the plus button at the top right-hand corner of your screen to begin setting up your Gateway.
Step 3: Scan the Gateway barcode located at the lower right-hand corner on top of the Gateway as shown below.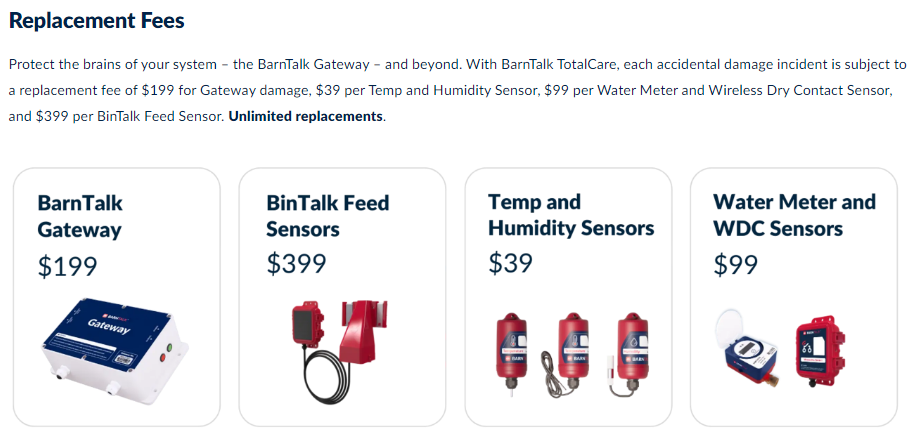 Step 4: Hang your Gateway near a plug-in centrally located between where you plan to place your sensors. Name your sensors with a black permanent marker and name your sensors in the BarnTalk App. Hang your sensors.
Site Layout Considerations
SENSOR GUIDELINES
Typically, 2-3 barns can be covered by 1 Gateway.

The Gateway should be centrally located on your site.

Sensors should be placed within 700 ft. of the Gateway for best connection.

Minimize barriers between the antenna and sensors, including thick concrete/steel walls.

Hang or place sensors at least 1 foot away from walls to optimize connectivity.

1 Temperature Sensor per room OR every 200 ft. in large rooms.

1 Humidity Sensor per room.

1 Outdoor Temperature Sensor per Gateway.
CELLULAR CONNECTIVITY GUIDELINES
Cellular antenna should always be mounted outside and higher for best performance.
Mounting the antenna on the same side of the barn as the closest cell tower (if you know its location) may yield better results — but is often not necessary.
Step 5:
To complete your setup, the following
3 items
will ensure your system will notify you properly:
If you have any issues or feedback, reach out to our support team via email at support@barntools.com or call 515-272-5122 during the hours of 8am-5pm CST Monday-Friday.