We Cover It All. No Questions Asked.
Comprehensive Coverage
For just $15/month, you can protect your BarnTalk investment with our comprehensive protection plan. We cover any and all damage. From lightning to daily wear and accidental damage, we ensure you're covered against everything. No questions asked.
Beyond the Gateway

With BarnTalk TotalCare, you're not just purchasing a product, you're investing in reliability and peace of mind. Not only does BarnTalk TotalCare cover your BarnTalk Gateway, but it also extends to any sensors paired with the gateway.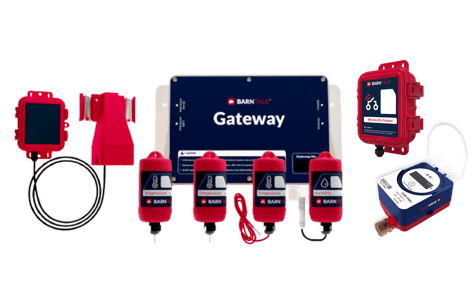 Replacement Fees
Protect the brains of your system – the BarnTalk Gateway – and beyond. With BarnTalk TotalCare, each accidental damage incident is subject to a replacement fee of $199 for Gateway damage, $39 per Temp and Humidity Sensor, $99 per Water Meter and Wireless Dry Contact Sensor, and $399 per BinTalk Feed Sensor. Unlimited replacements.

Above and Beyond Our Standard Coverage
BarnTalk TotalCare goes above and beyond our standard manufacturer defect coverage, offering expanded protection for your peace of mind. Note: 1-year manufacturer protection plan is still in place and would be a free replacement if deemed manufacturer issue.
Seamless Replacement Process
Your new equipment arrives first, providing you with the assurance of uninterrupted service. As part of the eligibility requirements, the damaged Gateway or sensor must be returned to us, but rest assured we will send out a replacement along with a return label promptly. Overnight shipping included if requested by 2pm CST (overnight only available for U.S. customers).
How to Enroll in BarnTalk TotalCare
To enroll in BarnTalk TotalCare, simply have our Sales team add it to your quote or contact our Support team if you are already a BarnTalk customer. You can fill out the form at the bottom of this page or go to https://barntools.com/warranty to fill out the form to sign up.
New Customers: BarnTalk Total Care is only available at time of purchase

or

within 30 days from the install date for new purchases.

After 30 days, out-of-warranty replacements are retail price. 1-year manufacturer protection plan is in place.
Coverage will begin on the date of installation or 60 days from purchase, whichever is sooner.

Existing Customers: Contact our Support team at the below number or email and we'll get you covered.
Remember, with the BarnTalk TotalCare protection plan, you're not just purchasing a product, you're investing in reliability and peace of mind.
If you have any issues or feedback, reach out to our support team via email at support@barntools.com, call/text 515-272-5122, or call Toll Free at 855-580-0058 during the hours of 8am-5pm CST Monday-Friday.